Experts in the hospitality industry love to get together in person, it's in our DNA! TGP International was proud to sponsor the 2023 Global Restaurant Investment Forum (GRIF) and share ideas with some of the best minds in the food and beverage industry. This two-day conference took place at the 3-day Future Hospitality Summit (FHS) in Riyadh, Saudi Arabia.
TGP International is a global 360° hospitality agency. We work with brands to bring hospitality and retail concepts into reality. With success stories in more than a dozen countries, we keep our finger on the pulse in restaurant markets around the world.
The middle eastern dining market is full of exciting opportunities, with no place as ripe for growth as Riyadh. Understanding the unique needs and wants of each market is what makes TGP a trusted international hospitality partner.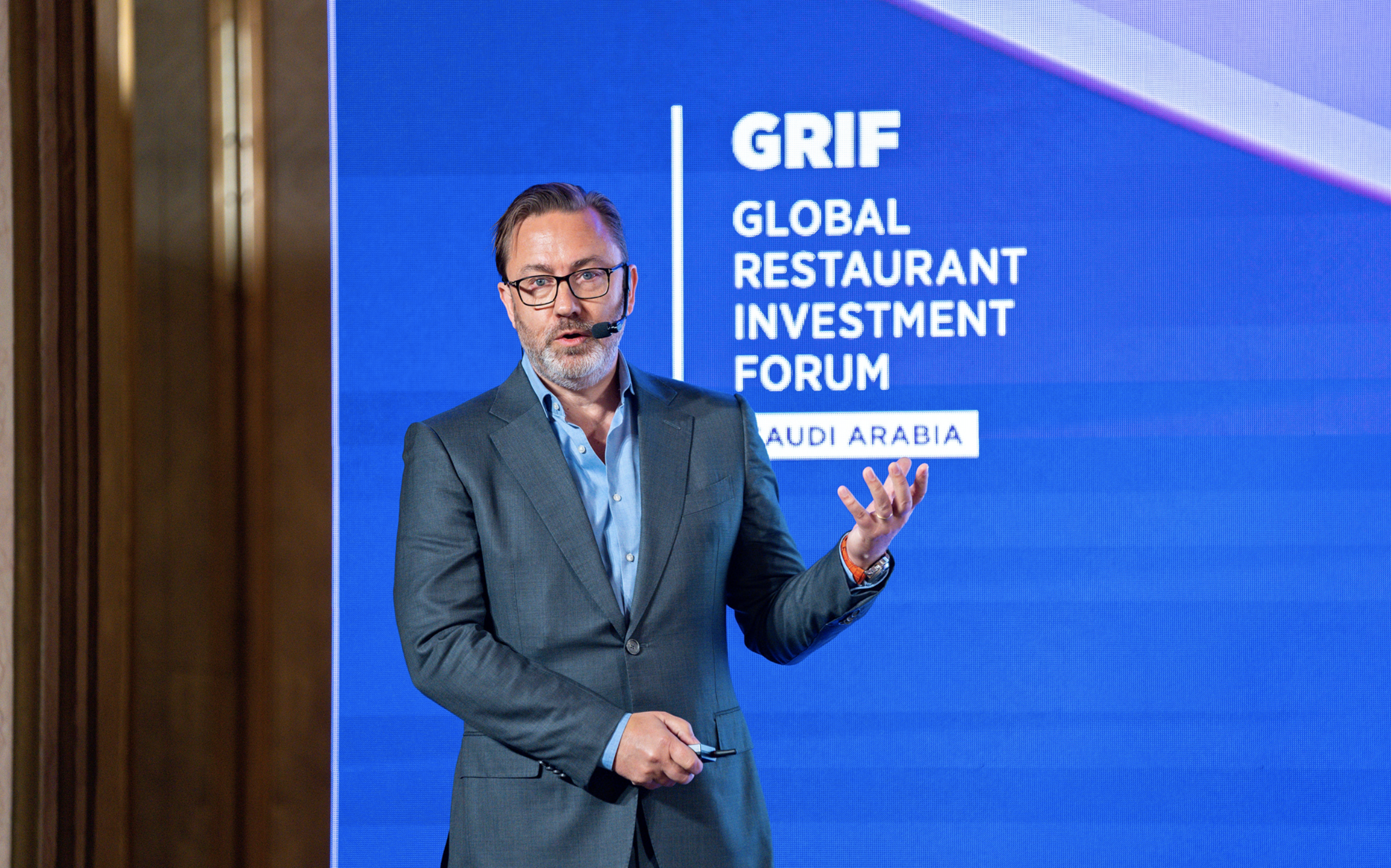 Our chairman, Simon Wright, and Nichola Beskine-Taylor, Partner, shared their expertise during a round of presentations and on-stage interviews and panels. This included a range of topics including food & beverage trends internationally and in Saudi Arabia, sustainability in food and beverage, and nurturing talent while boosting entrepreneurship in the hospitality industry.
Our involvement in this year's Global Restaurant Investment Forum was invaluable and productive. It keeps us at the forefront of the hospitality industry in Saudi Arabia. FHS Saudi Arabia is the place to meet decision-makers in hospitality and connect with investors and mutual collaborators.
The forum consisted of five stage sessions led by engaging speakers from the industry. Keep reading for some of the biggest insights from the event.
Exclusive Intelligence - Looking at Global Trends in Eating Out
Our chairman, Simon Wright, shared exclusive intelligence on global food and beverage trends. The question on everyone's mind was, what is filtering into the Saudi market and what should we expect to see in the future? What new trends are emanating from the Saudi market?
Customers around the globe are excited about living an experience every time they go out to eat or shop. This has naturally evolved into the multi-faceted dining experiences of food halls. Already common in the US and Europe, they are spreading to other markets. Now, food halls have begun opening their doors in the Middle East.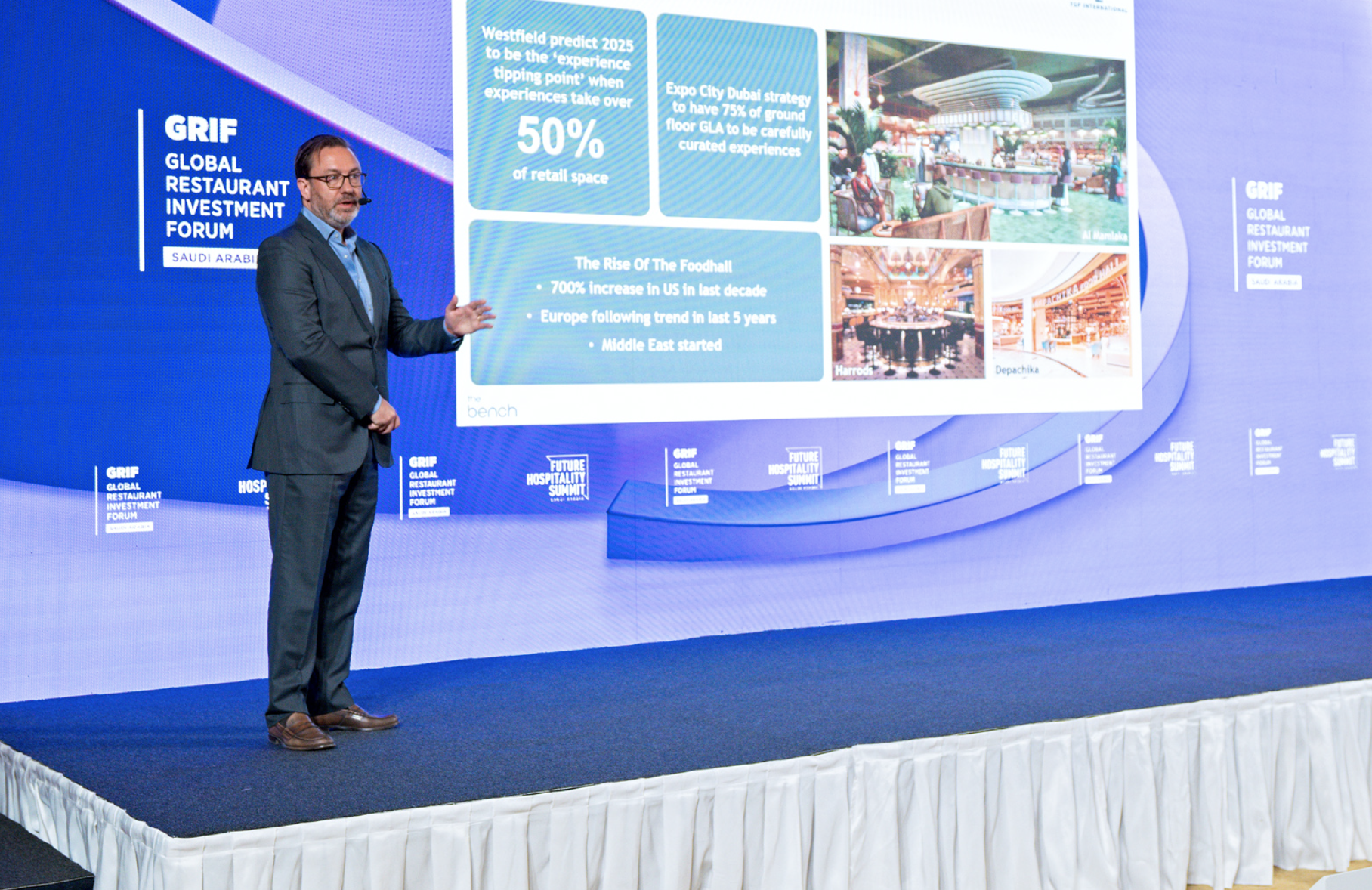 Food halls will be welcome in KSA since Riyadh diners are showing signs of consumer fatigue with fine dining. We know that chefs can offer a fun, casual experience without sacrificing quality. A truly great dish doesn't need to come with a high bill or stuffy service. With the rise in tourism and consumer interest in casual dining, Riyadh can expect to increase its ratio of restaurants to residents. The 2030 vision for Riyadh is 3,000 restaurants per 1 million residents, which will help bring it closer to Dubai's higher number of restaurants.
We can't forget about Gen Z and Generation Alpha, who are already demanding a different dining experience. Since 60% of Saudia Arabia is below the age of 30, hospitality managers need to take note! A restaurant that was seen on a popular TikTok is more important to the younger generations than one that has decades of great reviews.
Consumers are also increasingly interested in vegan alternatives and healthy food. This is a huge opportunity for KSA businesses. The growing healthy food market currently takes up less than 1% of the market now. This means that is so much open space for competitors and complementary food and beverage brands.
Healthy food and sustainability are equally important factors for many consumers. Eliminating food waste and showing transparent sustainability is quickly becoming key for many diners.
Restaurant managers are already noticing a lack of talent needed to grow their brands. However, there is a lot of domestic talent being overlooked. Harnessing and training KSA talent will be essential for future growth. With an eye on 2030, the growth in the dining industry of Riyadh is full of lucrative opportunities.
Founder's Chat: Deem Albassam, The Independent Food Company, in conversation with Simon Wright, TGP, on the Growth of Saudi's Food Scene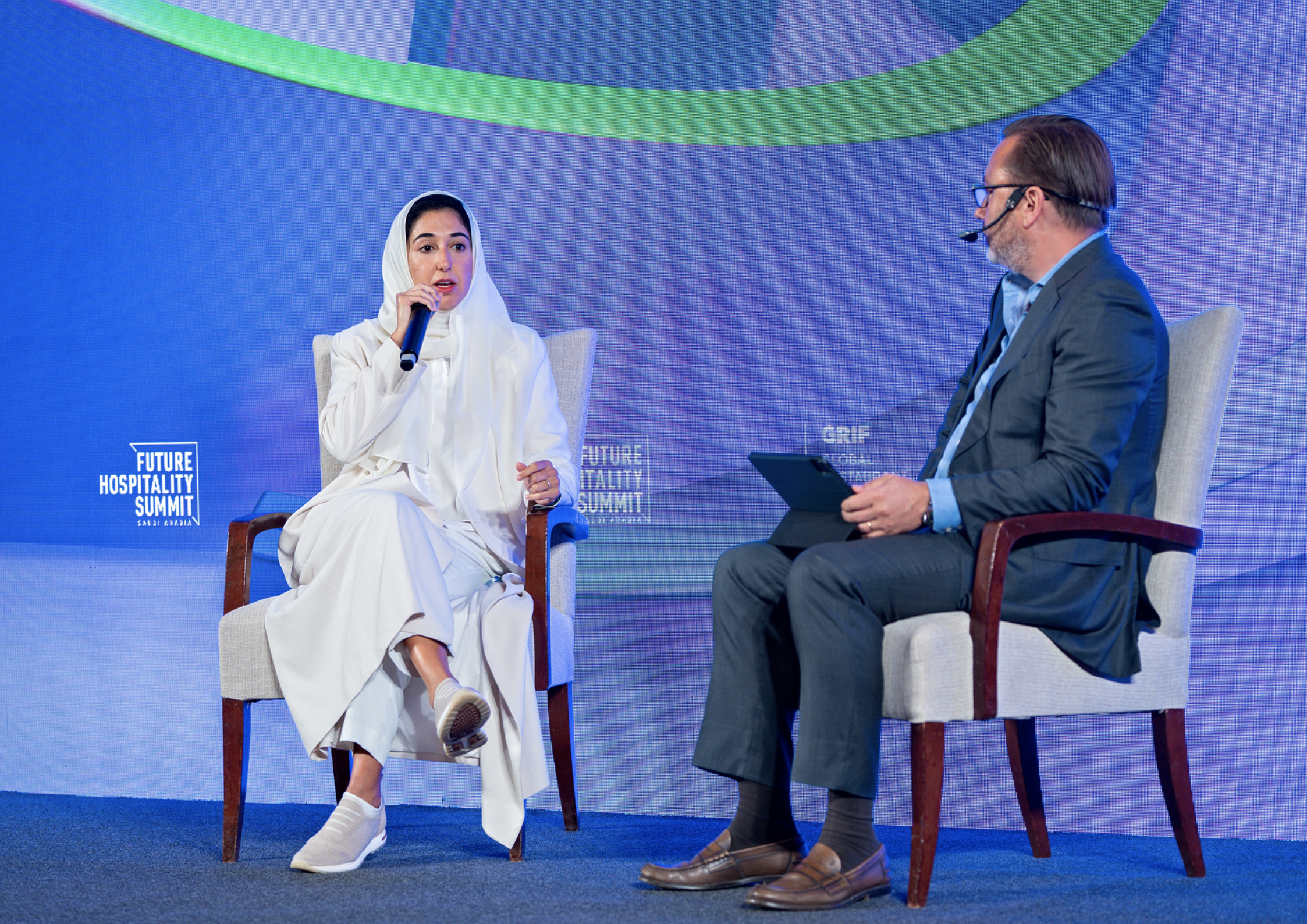 TGP International Chairman and Founder Simon Wright sat down with Deem Albassam, Co-Founder and the Managing Director of Independent Food Company, to discuss the development and growth of Saudi Arabia's burgeoning food scene.
Here are a few of our key takeaways from the session:
● "We use TikTok to research what the market wants and stay relevant," says Deem. Their team views Food & Beverage brands as similar to fashion brands, beholden to the same level of hype and trends. Stay relevant by showing up under the right hashtags. What's in one year will be old news the next, so continue innovating to stay ahead of the curve. A trusted hospitality agency should help your brand by supplying the latest market research and trend analysis.
● Deem also highlighted the importance of learning from the best, referencingJOE & THE JUICE as a benchmark for great customer experience, speedy service, and innovative technology. "Joe & The Juice is dealt with as a technology brand.. the technology part is something we really wanted to understand". If your brand isn't as good as the rest, then it's time to catch up.
It was an engaging and inspiring conversation, and we can't wait to see how the future of hospitality unfolds in Saudi Arabia. Thank you to Deem for sharing her expertise and insights.
Founder's Chat: Sinan Al Saady, Cool Inc., on Building A New Business Model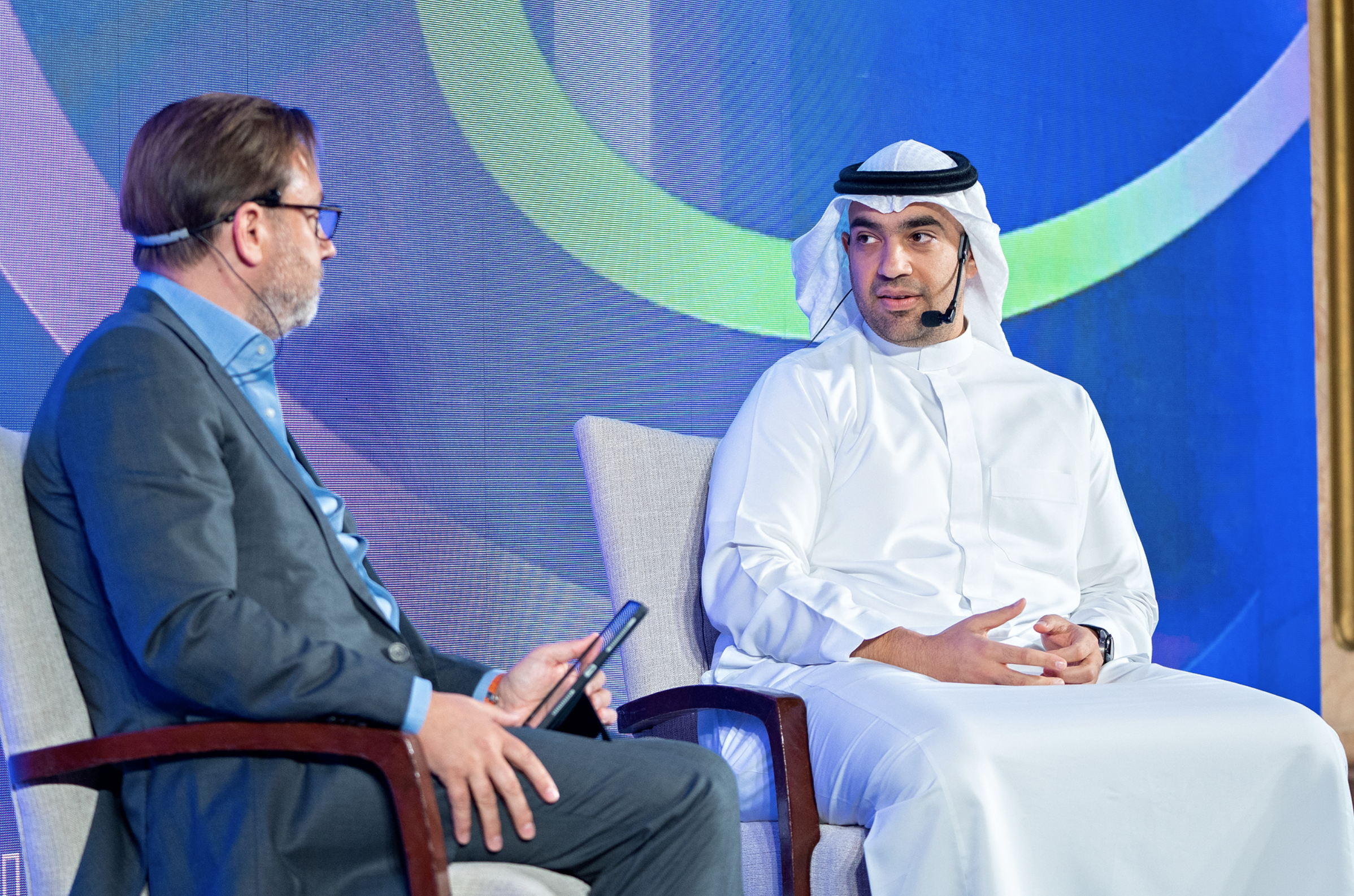 At the Future Hospitality Summit's GRIF, our Founder & Chairman Simon Wright, sat down with Sinan Al Saady, Founder and Group CEO at Cool Inc., who shared his insights on the ever-evolving hospitality industry in Saudi Arabia.
With over 20+ successful restaurant openings in the last 3 months, including Madeo Restaurant, Scott's, Sexy Fish, Spago by Wolfgang Puck, Gymkhana, and Wagyumafia International Ltd., Sinan's expertise in the field is undeniable. We extend our congratulations on the recent opening of 4 more restaurants and the ongoing process of the continuing opening of the restaurants at VIA Riyadh.
Sinan and his team use rich, dynamic data and local customer insights to curate what's cool in Saudi Arabia right now, along with what's to come.
During our enlightening conversation, Sinan highlighted some valuable takeaways, including:
● The tremendous potential for growth in Riyadh due to its city scale and high GDP per capita.
● He emphasized the importance of marketing strategies that focus on top-of-mind and top-of-wallet tactics, with a particular emphasis on content, branding, and digital marketing efforts.
● Location is everything. Don't forget the importance of selecting a destination for restaurants that will attract significant traffic and support effective marketing efforts.
We wish him all the best in his continued success and can't wait to see what he whips up next with Cool Inc. Let's hope we can get a reservation!
How can Saudi Arabia's Sustainability Vision be Turned into Reality on the Ground?
We were thrilled to have our very own Nichola Beskine-Taylor share her expertise and knowledge on sustainability within the hospitality sector at the Future Hospitality Summit's GRIF Saudi Arabia 2023.
Sustainability isn't a buzzword, it's become a non-negotiable for many diners. As social media continues to open our eyes to wasteful practices, diners are demanding more from their favorite food brands. KSA food concepts won't be left behind and are already working towards a circular economy.
Nichola discussed how Saudi Arabia can turn their sustainability vision into a reality on the ground. The next generation of restaurants in KSA can't just tell diners that they are sustainable, they need to be able to show it. The overflowing breakfast buffet may soon be a thing of the past in Riyadh, meaning less fresh food destined for trashcans. She shared practical insights on how the industry can drive positive change through sustainable practices.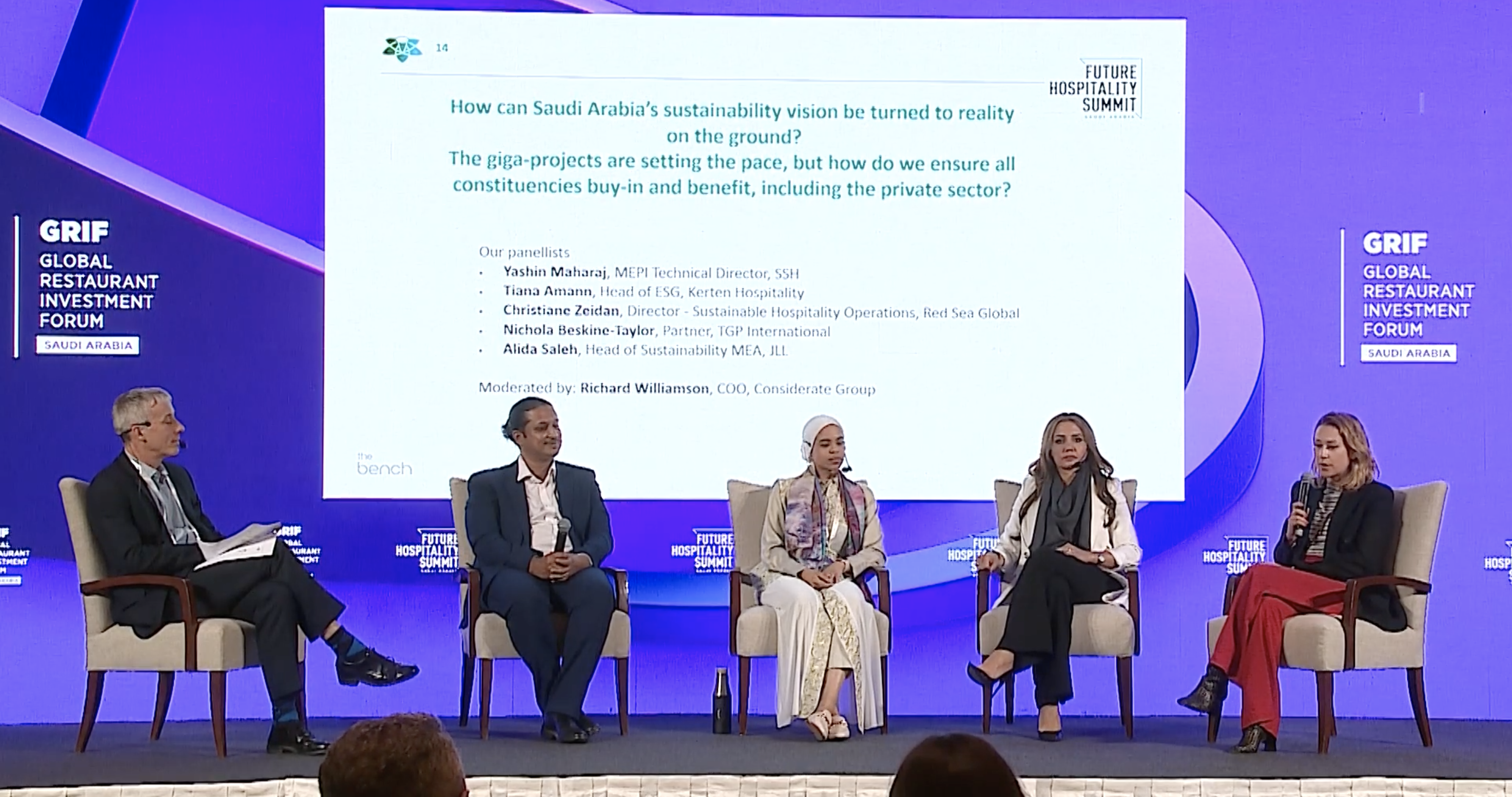 Thank you, Nichola, for sharing your knowledge and helping to drive meaningful changes within our industry.
Simon Wright in conversation with Faisal Shaker, Modern Food Company (MFC), on Driving Growth and Development
Faisal Shaker, CEO of the Modern Food Company, believes food needs to fit into our contemporary lifestyles, while still being healthy and attainable. Faisal shared his perspective on the growing opportunities in the Food & Beverage sector.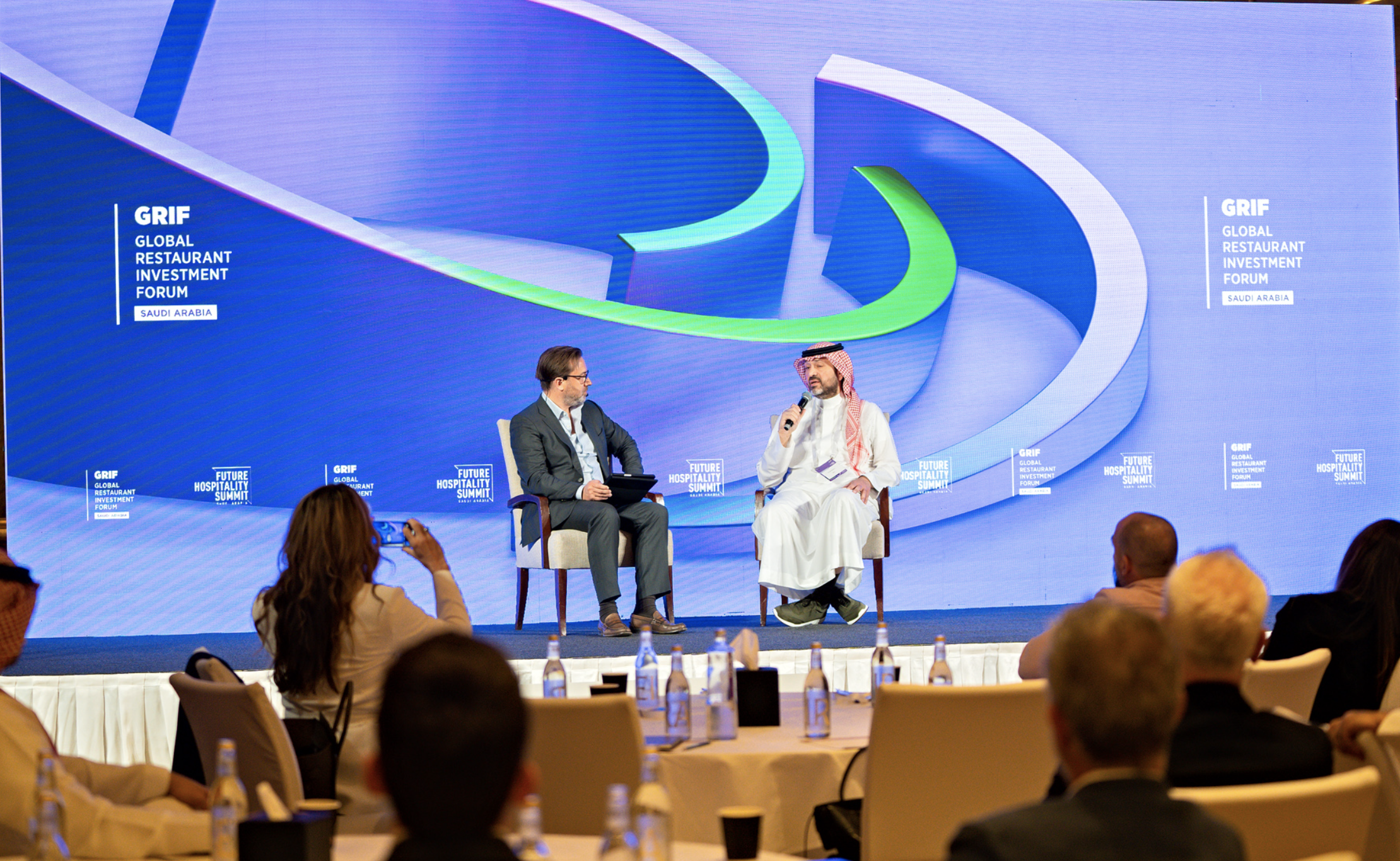 He also discussed the importance of partnering with brands that share MFC's values, which put community, ethics, and customer service first. He also emphasised the significance of strategic planning and financial management in achieving long-term success.
This year's Global Restaurant Investment Forum was a successful gathering of hospitality leaders and innovators, leaving us with fresh ideas and new connections for continued growth in Saudi Arabia. The hospitality industry may move with the trends, but there will always be a need for connecting face-to-face. We hope to see you in 2024 in Riyadh!