New York is skyscraper city, its skyline famously piercing the heavens with tall iconic towers. And yet, it wasn't until relatively recently when some of those sky-high rooftops were finally converted into bars.
With the warm weather comes cool, refreshing cocktails, and why stick to the street to imbibe them on a hot summer evening? Reach for the rooftops and that frozen margarita or chilled negroni will taste a lot better with the view.
Here are the 15 best rooftop bars in New York City.
Rooftop bars in Manhattan
1. Best for all-year-round rooftop drinking: Jimmy SoHo, SoHo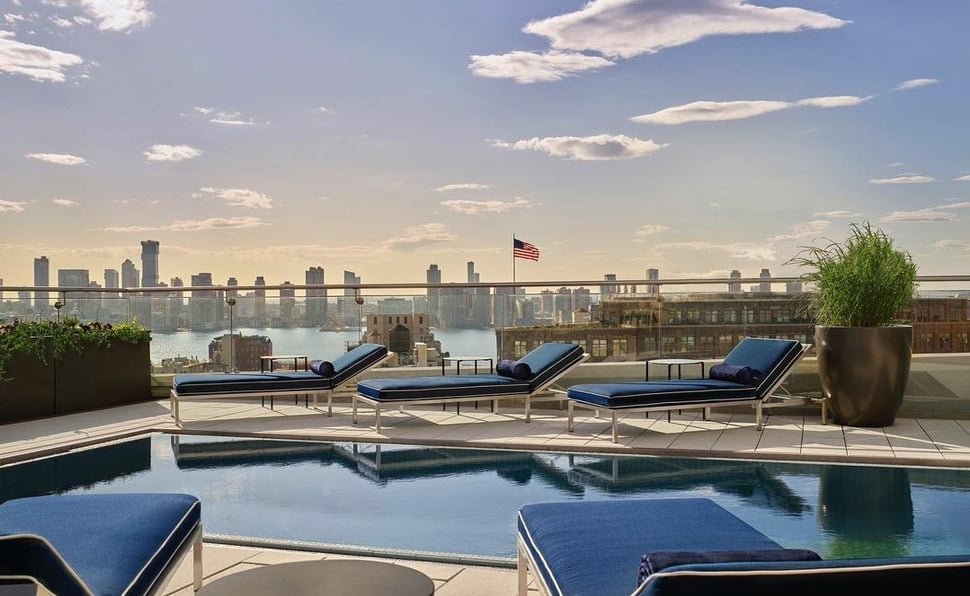 Lofted atop the James New York hotel in SoHo, Jimmy is a sky-high hangout with sweeping views of the city below. Lounge on the outdoor terrace while sipping a refreshing tequila-spiked mango slush or a strawberry-flavored Moscow mule. When it's colder, head indoors where leather furniture, a fireplace and cocktail list gets warmer and autumnal.
2. Best for cocktails that are good enough to rival the view: Skylark, Midtown West
With 360-degree views of surrounding skyscrapers plus a riot of dazzling colors across the Hudson River at sunset, Skylark provides visual fireworks to go with a seasonal cocktail menu of well-shaken potent drinks. From 30 floors up, the bi-level rooftop bar in Midtown is tastefully designed with Art Deco touches and some semi-private nooks, making it an ideal date spot.
3. Best for feeling like you're at a Mexican luau: Terrace on 7, SoHo
Located in the Dominick Hotel in west SoHo, the seventh-floor terrace bar often changes each year, starting in May. For the past two years, it's been El Ta'koy, a restaurant and lounge that has other outlets in Chicago and London that fuses ingredients from Mexico and Hawaii to create tantalizing pork-and-pineapple tacos and ahi poke tuna nachos, as well as plenty of fruit-based boozy concoctions to go with the views of SoHo.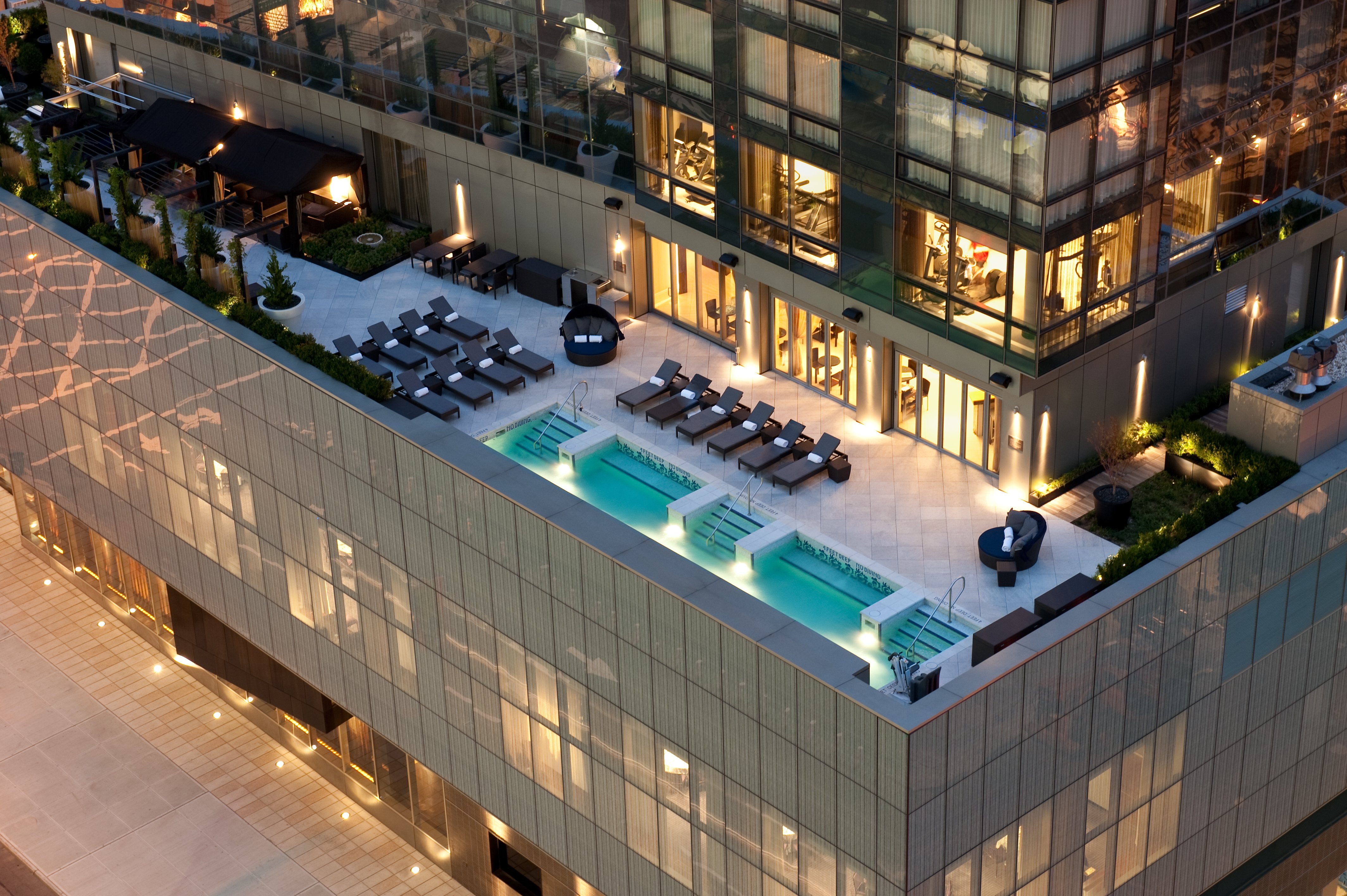 4. Best for the Art Deco enthusiast: Ophelia, Midtown East
Built in 1928 in what was once a women's-only hotel, Ophelia is about as classic New York City as they come. The hotel, the Beekman Tower is still in operation and now open to all. Art Nouveau stylings, tall ornate cathedral windows and views of the east side Manhattan skyline from 26 floors above the street all make for an ideal venue for drinking a dirty martini, a Manhattan or one of the 14 signature cocktails that are shaken up here nightly.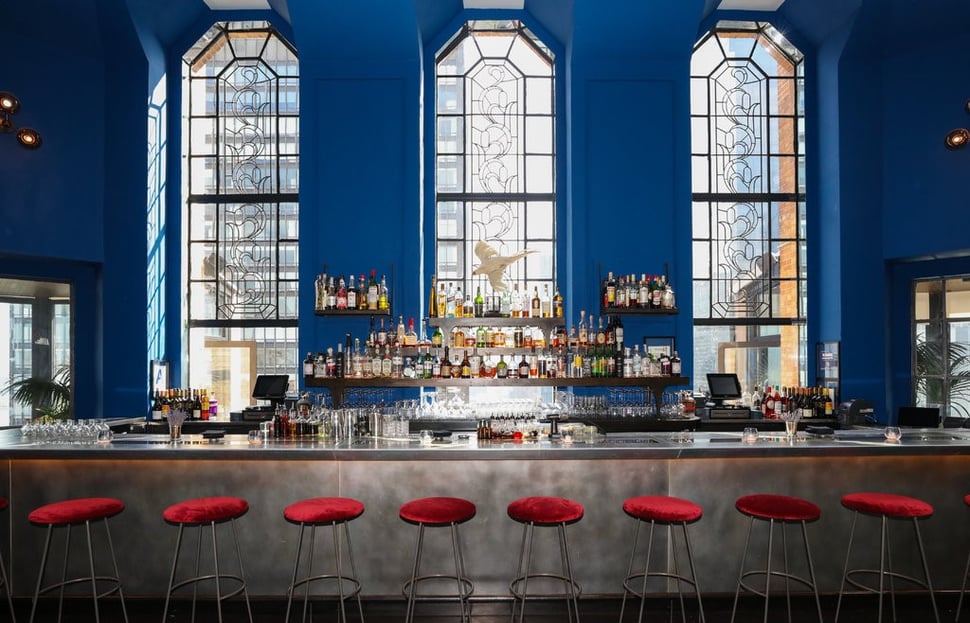 5. Best for feeling like you're in Havana: Azul Rooftop, SoHo
It's like Havana-on-the-Hudson at Azul, a 200-seat, 20-story-high SoHo rooftop bar that's bedecked with palm trees, reclaimed wood tables and teal accents where you can nurse mojitos, graze on a pork-loaded Cuban sandwich, and listen to Afro-Cuban jazz, mambo and rumba all night.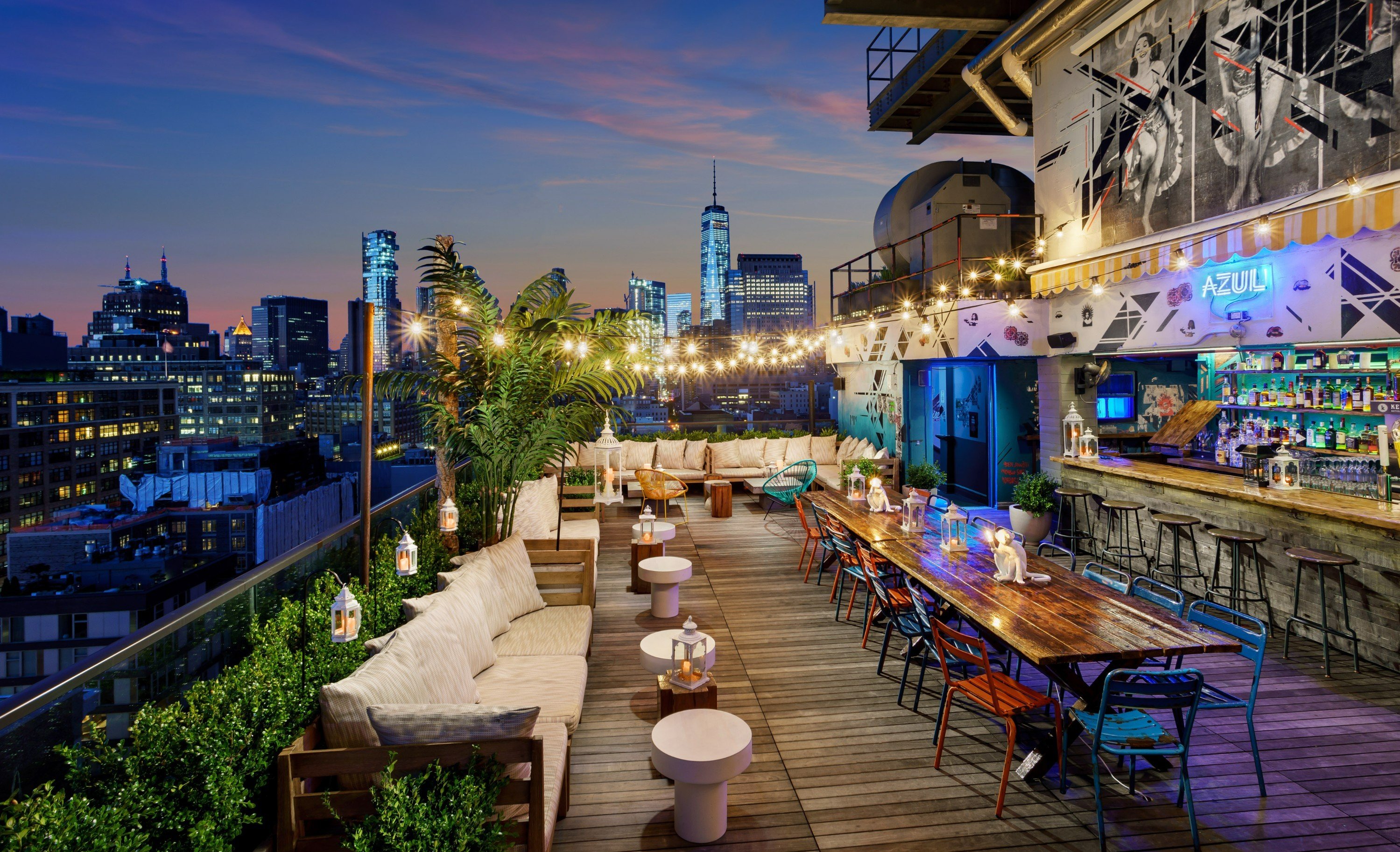 6. Best for sipping a martini in the sky: Daintree, Midtown
Thirty floors up in Midtown—just two blocks south of Bryant Park—sits Daintree, a sophisticated plant-laden lounge (with indoor and outdoor seating options) that puts its boozy focus on one particular drink: the martini. Choose between five options or scan down to the "Everything Else" part of the menu where you can opt for one of a handful of strong mezcal- and rum-based libations—potent enough.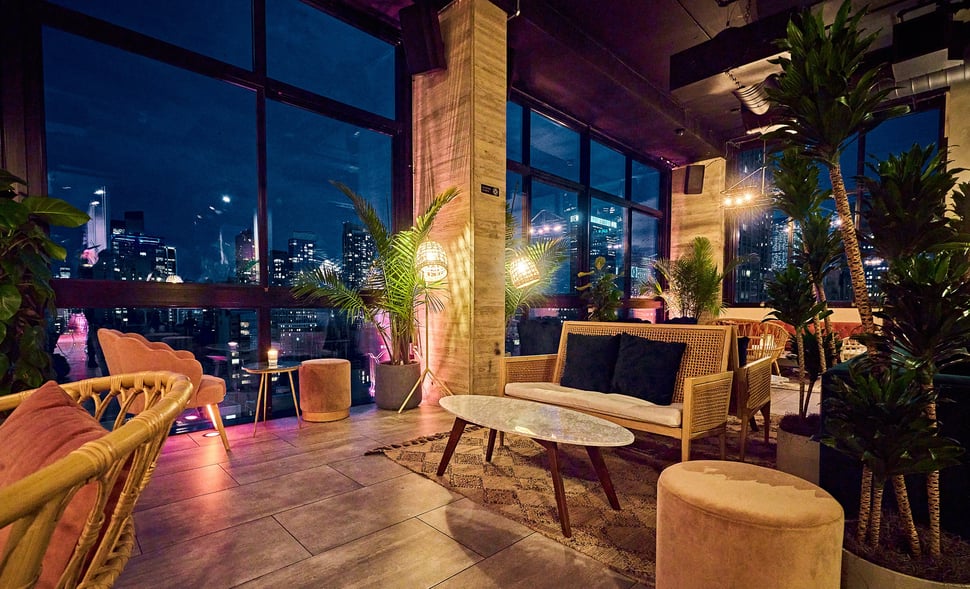 7. Best for feeling like you're at a backyard party: The Ready, East Village
Located atop the Moxy in the East Village, the rooftop bar has a raucous vibe, like you just arrived, mid-party, at a friend's backyard beer-laden bash—and if that friend had, by chance, a retractable roof and tableside coolers filled with cans of beer and bottles of wine. If you feel like starting early, the happy hour deal is a good one: $5 margaritas and $1 tacos Monday to Friday from 4 to 6pm and Saturday and Sunday from noon to 3pm. If you want something more substantial, head downstairs to the in-house eatery Cathedrale.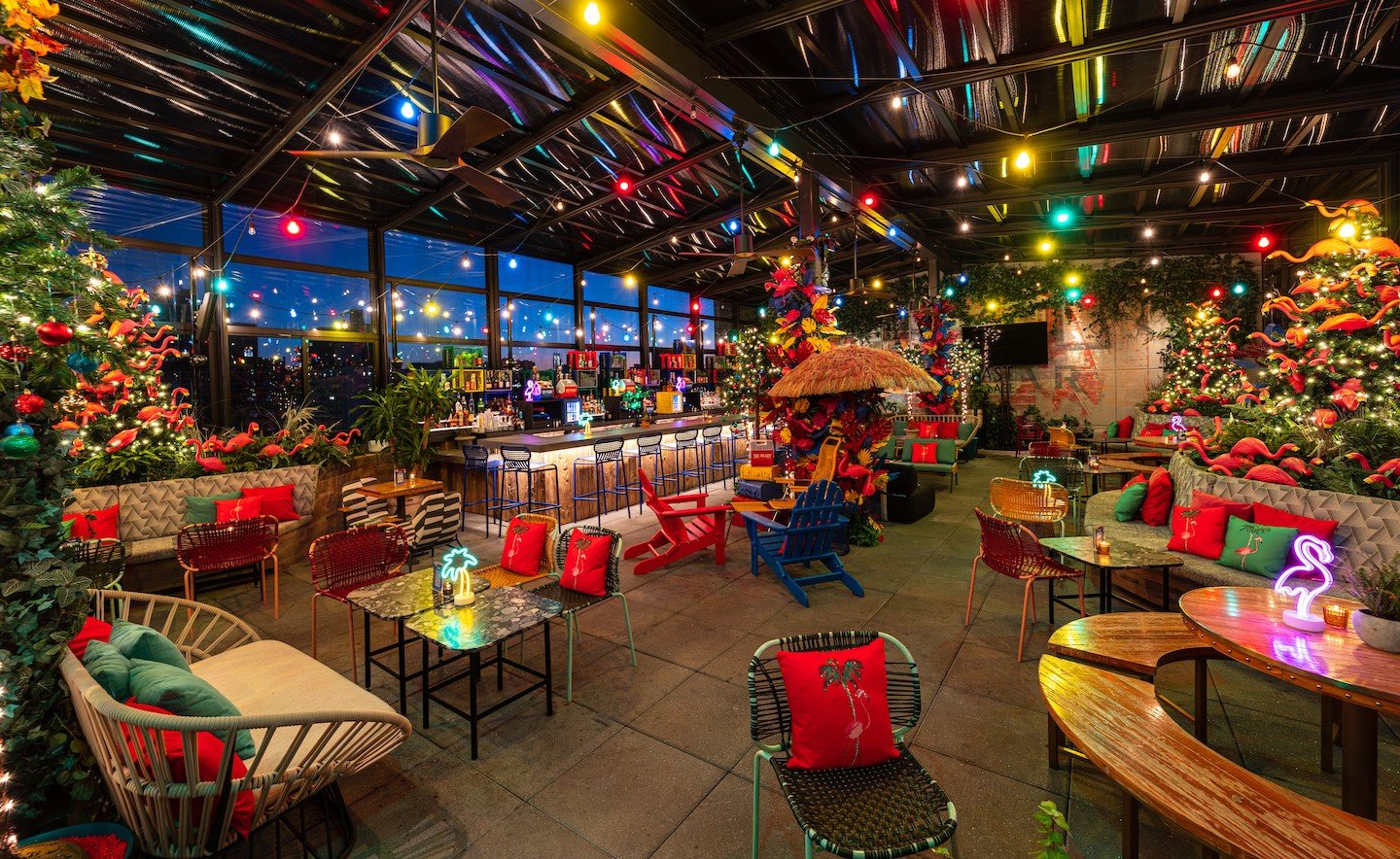 8. Best for rocking out with the views: RT60, Times Square
The servers at this 34th-floor bar sport name tags that also include their favorite bad or musical artists. You might see Depeche Mode, Prince or Led Zeppelin and it ends up becoming a conversation starter. No surprise that RT60 sits atop the new Hard Rock Hotel near Times Square. You won't find any rock star memorabilia on the outdoor terrace; just views of the surrounding towers, plates of snacks like hummus and sliders and nicely made cocktails.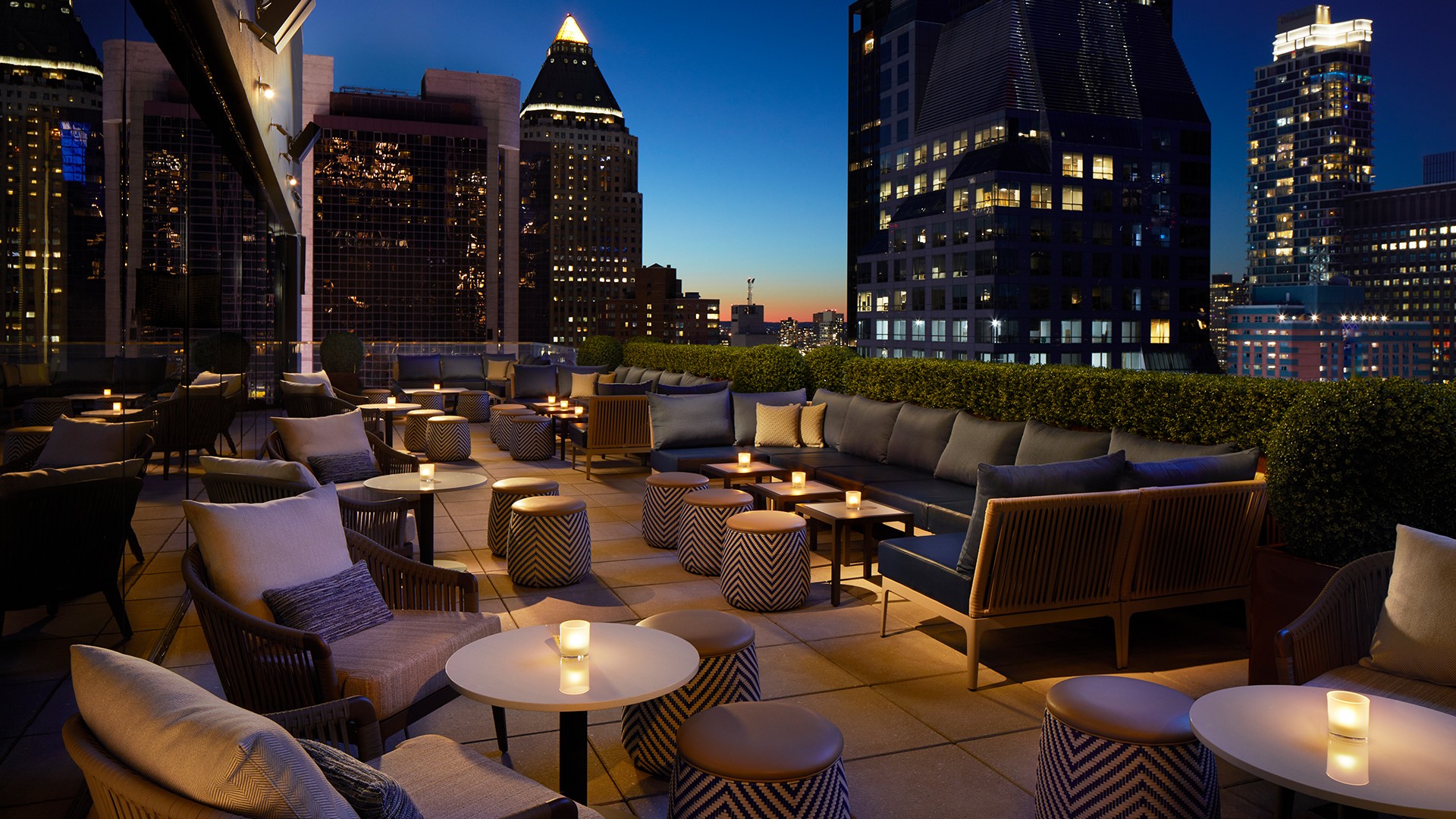 9. Best for Asian-inspired drinks and views of Chinatown: The Crown, Chinatown
Crowned atop the 50 Bowery hotel, this 21st-floor bar in Chinatown has an expansive roof deck with stunning views of the Brooklyn and Manhattan Bridges—the ideal spot for nibbling on excellent pastrami-stuffed steamed buns and veggie spring rolls in between sips from that lychee martini.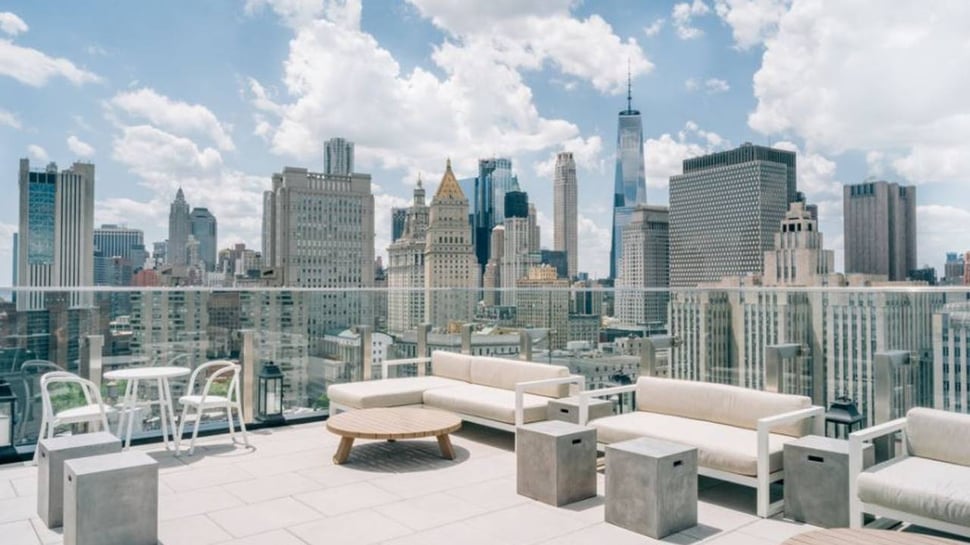 10. Best for a pre- or post-dinner drink: Overstory, Financial District
Sixty-four floors up, Overstory is brought to you by the people who gave us Saga, the elegant restaurant one floor down, and Crown Shy, the elegant restaurant on the ground floor of this Downtown Manhattan skyscraper. Quaff an expertly made signature cocktail—the 212, with whisky, vermouth, cocoa nibs, Amaro and black pear, is great—or sip a classic libation and enjoy watching the verve and the sparkle of the city below. Overstory recently won Michter's Art of Hospitality Award, voted by 220 members of North America's 50 Best Bars Academy.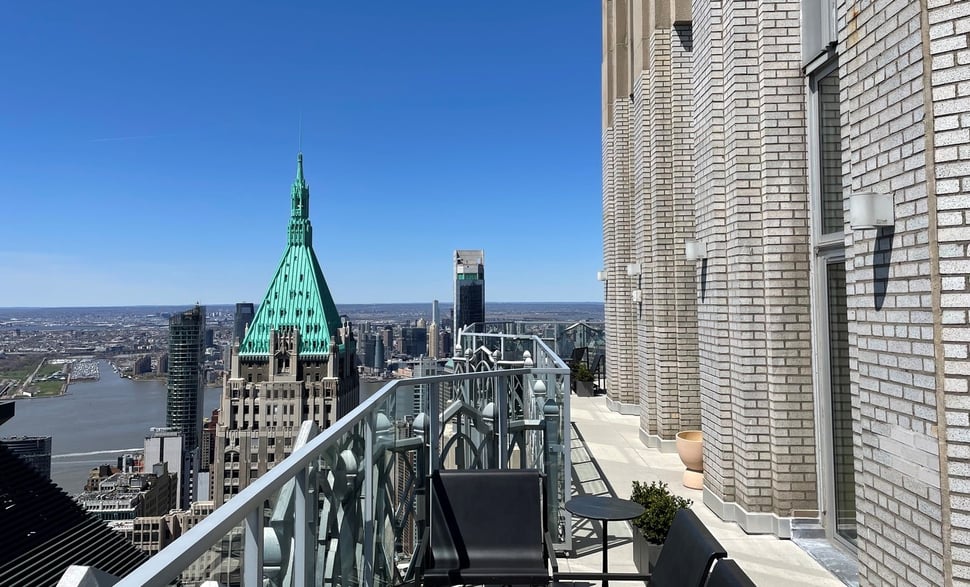 11. Best for drinking in a garden with a view: Gallow Green, Chelsea
Set above The McKittrick Hotel (not an actual hotel), famous for housing the interactive performance "Sleep No More," Gallow Green is a verdant and lively spot that offers frozen rosé/vodka drinks and margarita flights, as well as an array of classic cocktails to go along with the views over Chelsea rooftops and the High Line.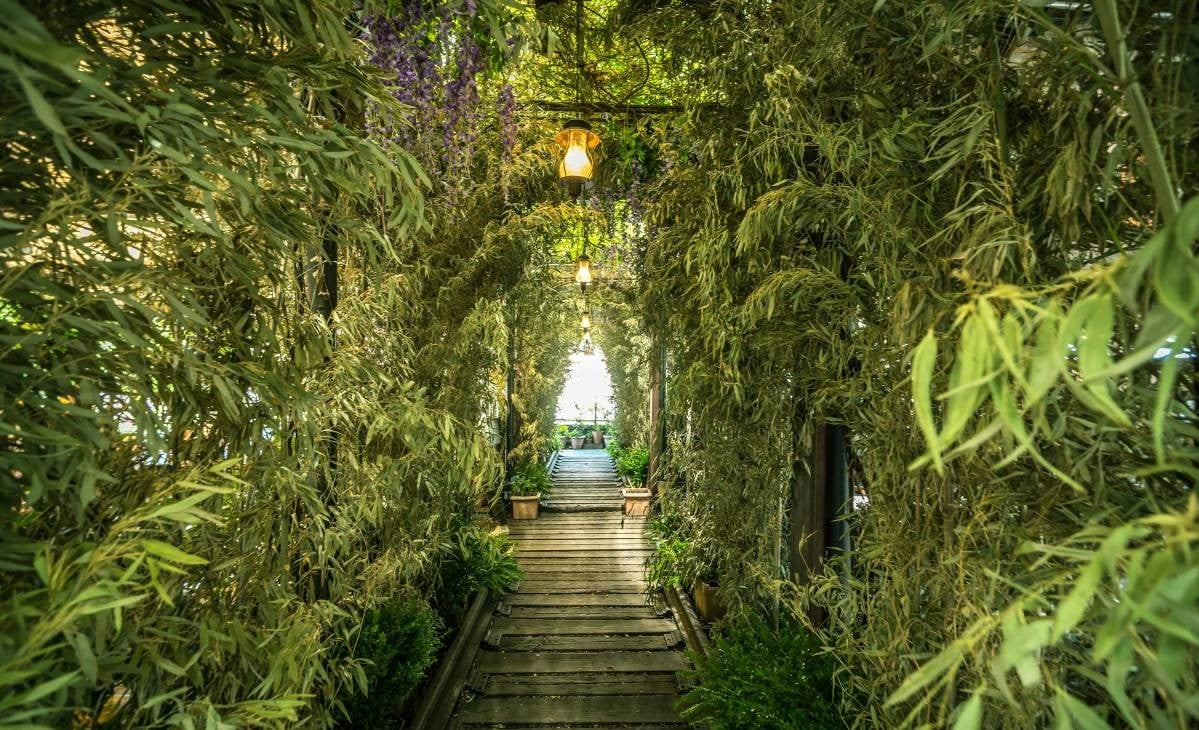 The best rooftop bar in Queens
12. Best for plane watching: TWA Pool Bar, JFK Airport
You're free to move about the bar at this singular rooftop watering hole at the TWA Hotel at John F. Kennedy International Airport. Watch the planes land and take off, trying to guess where in the world the destination might be, while sipping on aviation-themed cocktails like Jet Fuel, Vodka is My Co-Pilot, Control Tour Sour and Mile-High Margarita. Just don't fall into the bar's infinity pool after imbibing too many rum-based Floatation Devices—otherwise, you may need a real-life floatation device.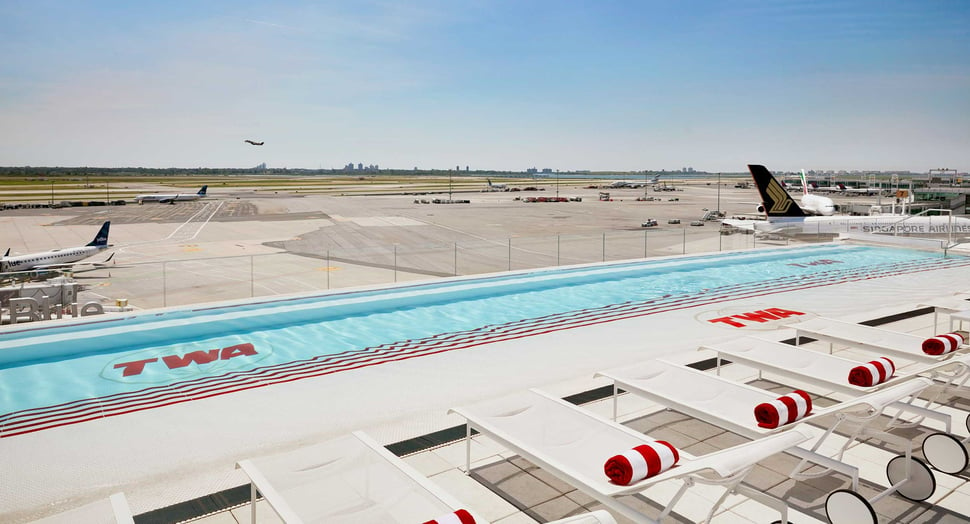 Rooftop bars in Brooklyn
13. Best for gawking at the Manhattan skyline without being in Manhattan: Bar Blondeau, Williamsburg
It's only six floors up, but Bar Blondeau, located atop the Wythe Hotel in Williamsburg, Brooklyn, offers a stunning view of Manhattan from across the East River. The culinary team from nearby French-Canadian hit Chez Ma Tante took over the kitchen in 2021 and turned the space into a Gallic-leaning bar. With a view like this, the food doesn't have to be so good, but it is here.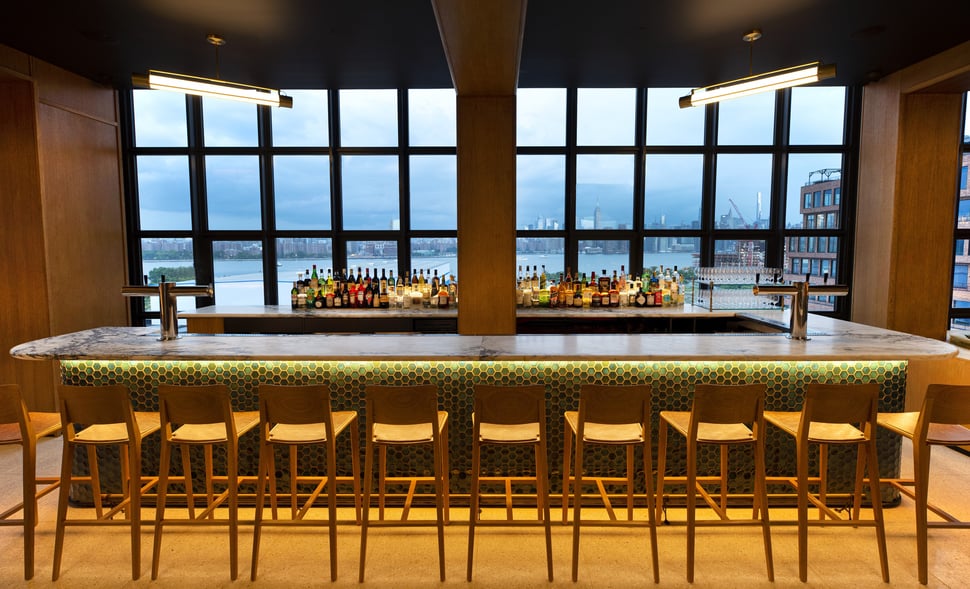 14. Best for drinking inventive cocktails amidst antiques: Night of Joy, Williamsburg
This charming, antique-loaded bar is only a few floors above the hipster-crammed streets of Williamsburg, Brooklyn, but what it lacks in altitude it makes up for in ambiance. Take a seat on the leafy rooftop deck while sipping one of the many inventive cocktails they make here—a beet and dill vodka concoction, for example, or a bison grass vodka-infused drink with apple juice, a play on the Polish cocktail "Tatanka."
The best rooftop on Roosevelt Island
15. Best reason to go to Roosevelt Island: Panorama Room, Roosevelt Island
Roosevelt Island attracts visitors for the fun cable car that floats between Second Avenue and E. 59th Street and the middle of the island. Many people get off, look around to see a somewhat drab neighborhood, and then get back on cable car to Manhattan. A few others may walk to the southern tip of the island to gawk at the 19th-century ruined hospital once used for quarantining smallpox sufferers. But now there's another, more cheery reason to come: the Panorama Room, located 18 floors atop the Graduate hotel, lives up to its name with all-encompassing views of the east side of Manhattan, Queens, and parts of Brooklyn.