Managed and delivered the pre and post contract stages of the newly developed chic beach club inspired restaurant.
Tucked away on Pearl Jumeira Island, Bungalo34 is a place for those searching for a spot of calm in the form of breathtaking sea views, fresh Mediterranean food, and a cosy, family-friendly atmosphere.

Opened on January 17th, this chic, come-as-you-are concept is ideal for those looking to relish in a leisurely beachside breakfast, lunch or dinner with impeccable food and drinks.
Bungalo 34 is a chic beach club inspired concept that is a newly developed by Tashas group located in Pearl Jumeirah Island, Dubai. Influenced by the beautiful rivieras of Greece, France and Italy, it offers a curated retail space and smart casual dining where 70's glamour meets beachside chic, with an outdoor area that connects to the beach allowing an inviting sense from the landscape flow.
From one-off lifestyle collectables to coral-inspired textured tiles, an impressive attention to detail is reflected throughout, with a story to tell in every corner. Oozing with personality, the stylish interiors feature playful artworks, bold colours, and hand-picked pieces from around the world.
The classic menu, conjured up by culinary director Jill Okkers, honours the custom of enjoying leisurely meals with friends and family.
Whether you're sat inside the restaurant, on the gorgeous terrace, or down in the sand enjoying classic European Riviera-inspired dishes including fresh pasta (the Amalfi lemon is a must-try), a seafood bar, wood-fired pizza, refreshing salads, with their Bungalo Spritz, a refreshing cocktail made with one of the most iconic Italian vermouth brands in the 70, or cooling off with the one-and-only Frozen Negroni, a timeless classic served ice cold, Bungalo 34 has truly perfected curating a gorgeous, groovy atmosphere.
Picture beachside elegance with sunrise shades, ocean blues and simple geometry, the venue draws on the chic simplicity of Riviera dining. Through sophisticated decor and interior, the concept celebrates dining in style with long lazy lunches that are shared with family and friends, enjoying stunning sunset views, while sipping on drinks, and watching the waves lap onto the shore.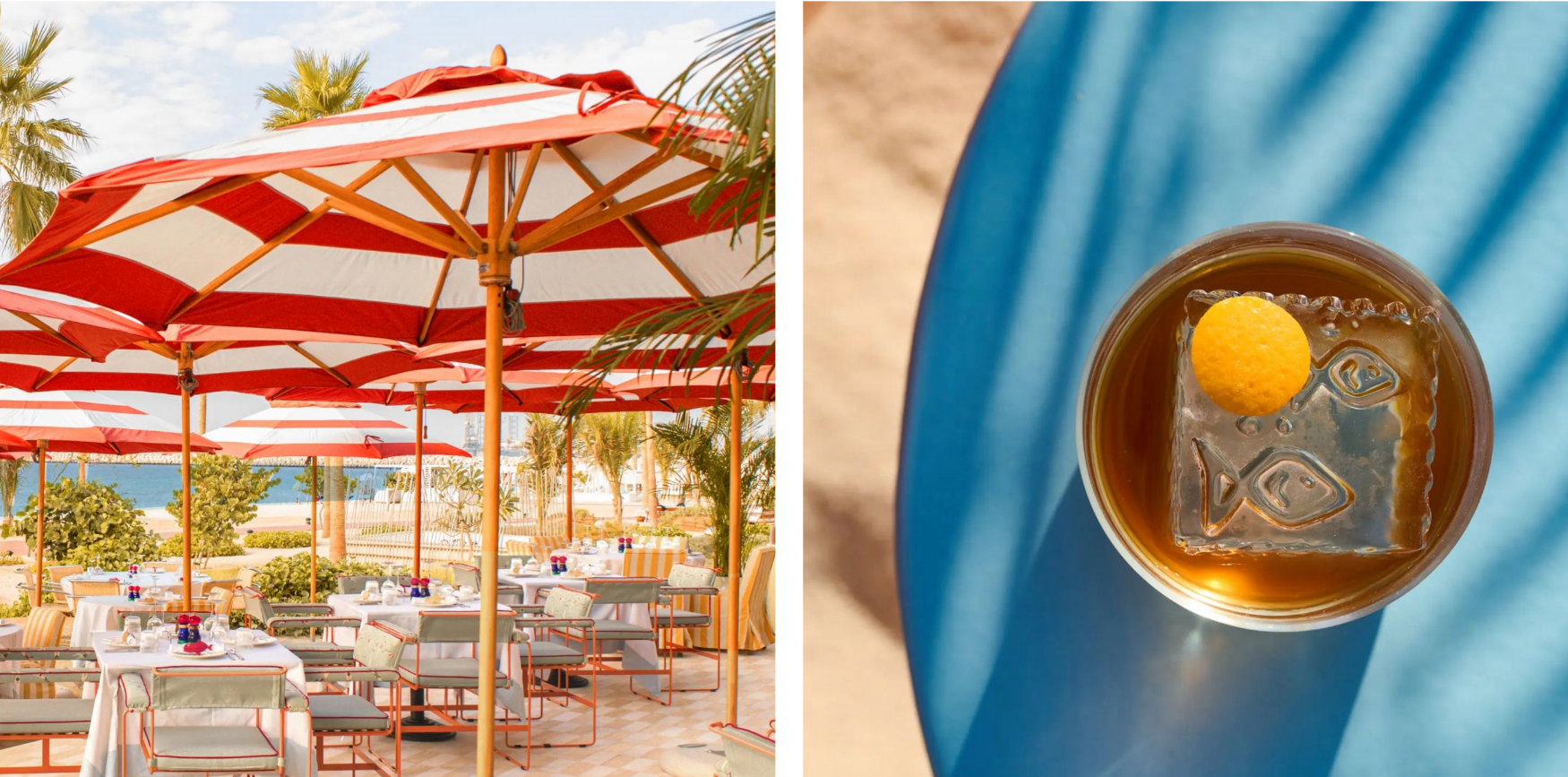 TGP International has managed the delivery of this newly developed concept by taking charge of the whole project process, from pre-contract to the post-contract engagement, this includes:
- Design Management
- Construction Management
- Risk Management
- Procurement of high-end packages from global locations
- Budget Management
TGP International also successfully led design teams and contractors Verhaal (interior designer), CKR Consulting Engineers (MEP consultant), Matthew Carter (Acoustic Consultant), Bond Interiors (Fit-out contractor), Unique Lighting Middle East LLC (lighting supplier) and all others involved.